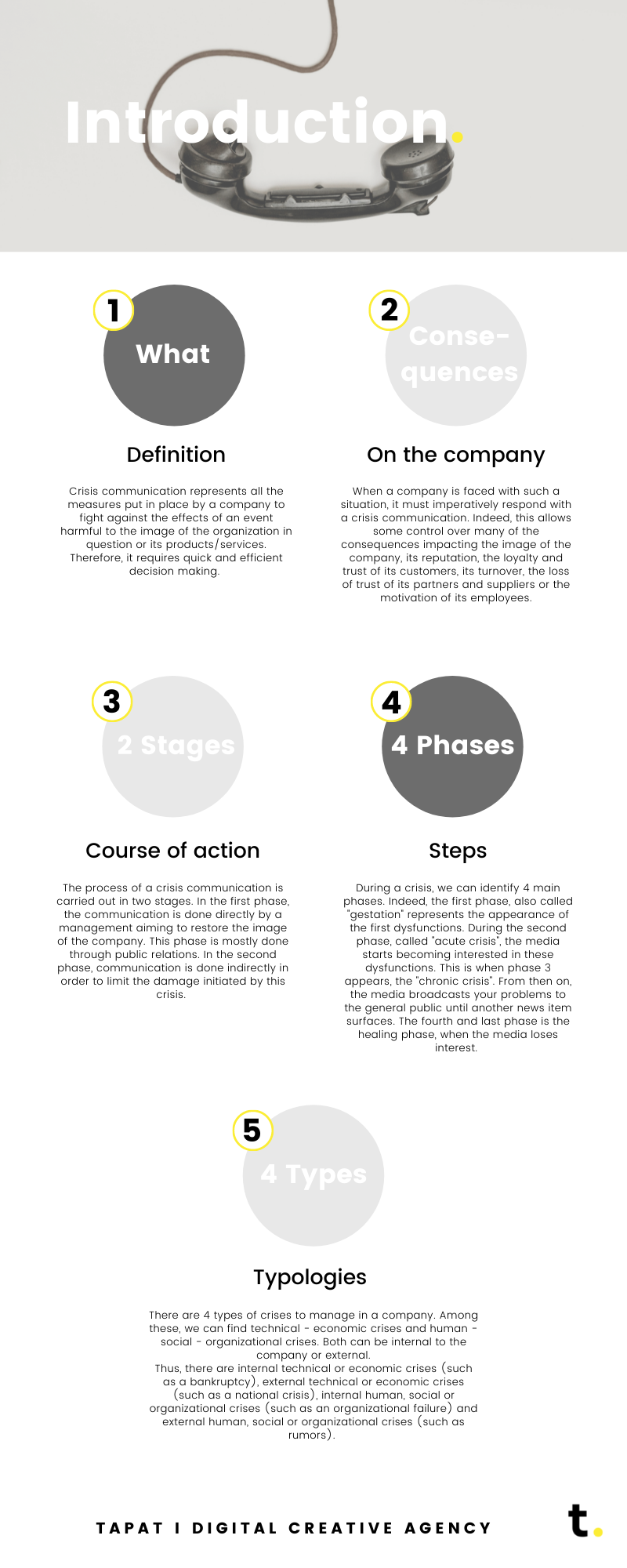 For all those who prefer a standard form, here is a transcript of the above infographic.
Enjoy reading it and don't hesitate to tell us what you think!
INTRODUCTION
What – Definition
Crisis communication represents all the measures put in place by a company to fight against the effects of an event harmful to the image of the organization in question or its products/services. Therefore, it requires quick and efficient decision making.
Consequences – On the company
When a company is faced with such a situation, it must imperatively respond with a crisis communication. Indeed, this allows some control over many of the consequences impacting the image of the company, its reputation, the loyalty and trust of its customers, its turnover, the loss of trust of its partners and suppliers or the motivation of its employees.
Course of action – 2 stages
The process of a crisis communication is carried out in two stages. In the first phase, the communication is done directly by a management aiming to restore the image of the company. This phase is mostly done through public relations. In the second phase, communication is done indirectly in order to limit the damage initiated by this crisis.
Steps – 4 phases
During a crisis, we can identify 4 main phases. Indeed, the first phase, also called "gestation" represents the appearance of the first dysfunctions. During the second phase, called "acute crisis", the media starts becoming interested in these dysfunctions. This is when phase 3 appears, the "chronic crisis". From then on, the media broadcasts your problems to the general public until another news item surfaces. The fourth and last phase is the healing phase, when the media loses interest.
Typologies – 4 types
There are 4 types of crises to manage in a company. Among these, we can find technical – economic crises and human – social – organizational crises. Both can be internal to the company or external.
Thus, there are internal technical or economic crises (such as a bankruptcy), external technical or economic crises (such as a national crisis), internal human, social or organizational crises (such as an organizational failure) and external human, social or organizational crises (such as rumors).
HOW TO REACT 
Identify the problem
Even before responding to the problem your company is facing, you must take the time to identify the problem and analyze the crisis.
Indeed, by identifying the problem, you will be able not only to acknowledge it in front of the general public, but also and especially to respond to it through a crisis communication.
It is important to keep in mind that transparency will allow you to gain credibility and reassure all of your company's stakeholders.
Measure the impact
Now you know exactly what the problem is whether it's internal or external. However, before determining how and what to communicate, you need to gather as much information as possible about the situation. To do this, you can use monitoring tools for example. This will allow you to acquire a lot of data about the situation, such as the number of people who reacted on social networks, the number of feedbacks you received by e-mail or whether or not the press has intervened. By collecting this information, you will have an idea of the impact of this crisis and its consequences in the short and long term.
Determine the message to be conveyed
You have now identified the problem and know what the community thinks. You can now determine the message you want to convey. At Tapat, we advise you to be transparent and to provide three essential elements.
First, you must explain what happened. Indeed, you must take responsibility for your error and let the general public know. This initiative will give you credibility and will reassure the stakeholders.
Secondly, you must explain what you have put in place to remedy this crisis. Indeed, by stating the actions taken due to the situation, you demonstrate that you don't take the problem lightly and your will to repair the damage.
Finally, you should list the actions you have taken to ensure that this situation will not be repeated in the future. This will reassure the stakeholders once and for all that they will not have to relive this crisis.
Don't forget to close this crisis by thanking all the stakeholders who helped you, in one way or another, to get through this crisis.
Disseminate crisis communication
Now you know what to share, you just have to determine where to share it. There are many means of communication today: websites, blogs, social networks, press releases, newsletters, etc. You need to consider all of these channels and determine which ones will be the most useful to you. To do so, you will have to estimate the pros and cons of each, while following your editorial and digital charter: what are your habits? who is your audience?
Note that sharing your message on social networks will lead users into a dialogue. Therefore, you will have a direct way to respond to interested parties. On the other hand, a press release will allow you, if you wish, to limit the exchanges and thus not to dwell on this embarrassing subject.
In case of hesitation, you can very well call upon a communication company that will help you share your message in the best possible way.
EXAMPLE: APPLE 
PROBLEM
In 2017, Apple was faced with a scandal of their own. Indeed, this company was directly accused of programming its smartphones in such a way that their performance would reduce when faced with updates (i.e. when new products are released). Thus, the web became inflamed and this news went around the world in a few hours: influencers took sides and complaints were filed for programmed obsolescence and deception.
The company was therefore forced to carry out a crisis communication. Their explanation was well awaited by all Apple consumers.
SOLUTION
Faced with the magnitude of this situation, Tim Cook (Apple's Chairman and CEO) intervened to ease tensions. First, he apologized to consumers: "We know that some of you have been disappointed and feel that you have been betrayed by Apple" explains the company. "We apologize" (the company took responsibility). Then, the company offered solutions to the problem: they committed to replacing the batteries of the affected iPhones for 60€ less and to refund 60€ to those who had their iPhone batteries replaced just before the scandal broke out (the company has put real actions in place to remedy this crisis). Finally, the company committed to giving information about the battery status in the future IOS update (the company put in place actions to prevent this situation from happening again).
COMMUNICATION CHANNELS
In order to distribute their crisis communication, Apple used a main communication channel which is its website. Indeed, known by all for presenting the products and services of the big company, the Apple website was used this time around to present their apologies, to the general public. They first apologized by expressing the reasons for this inconvenience, and the actions taken to remedy it. Since then, they have a page dedicated to the battery and performance of the IPhone: https://support.apple.com/fr-fr/HT208387. This communication has not been missed because everyone has had access to it.
CONCLUSION
To conclude, a crisis can happen at any time within your company. In order to manage it in the best possible way, you must first identify the problem, find the solution, but also and above all find how and when to communicate it. We hope this article has helped you, please feel free to discuss it with us!