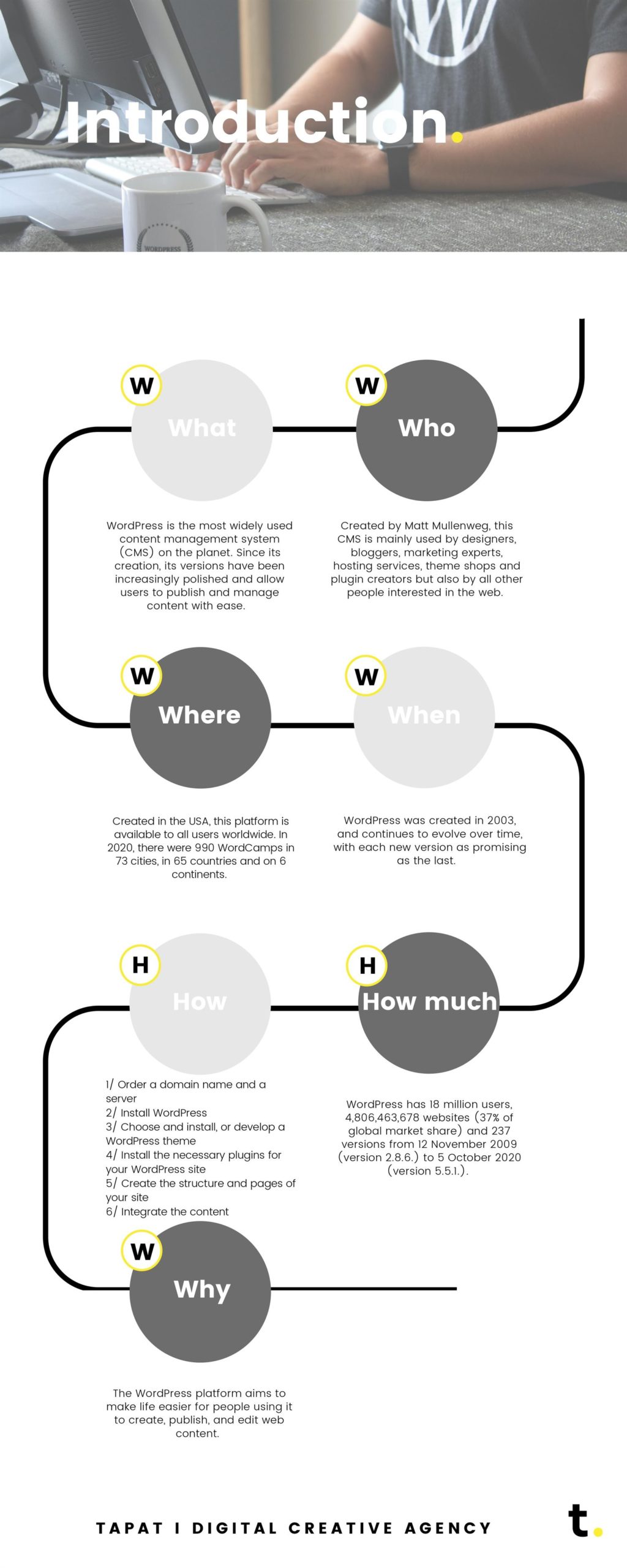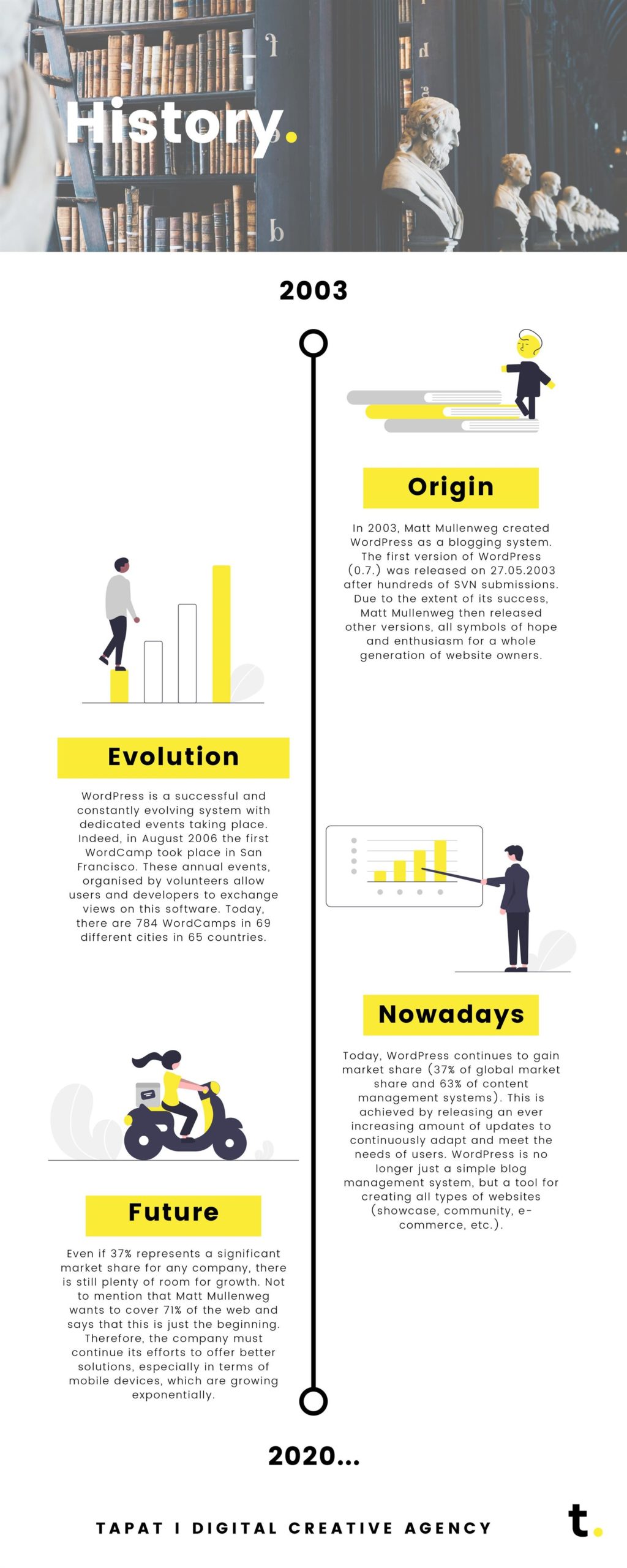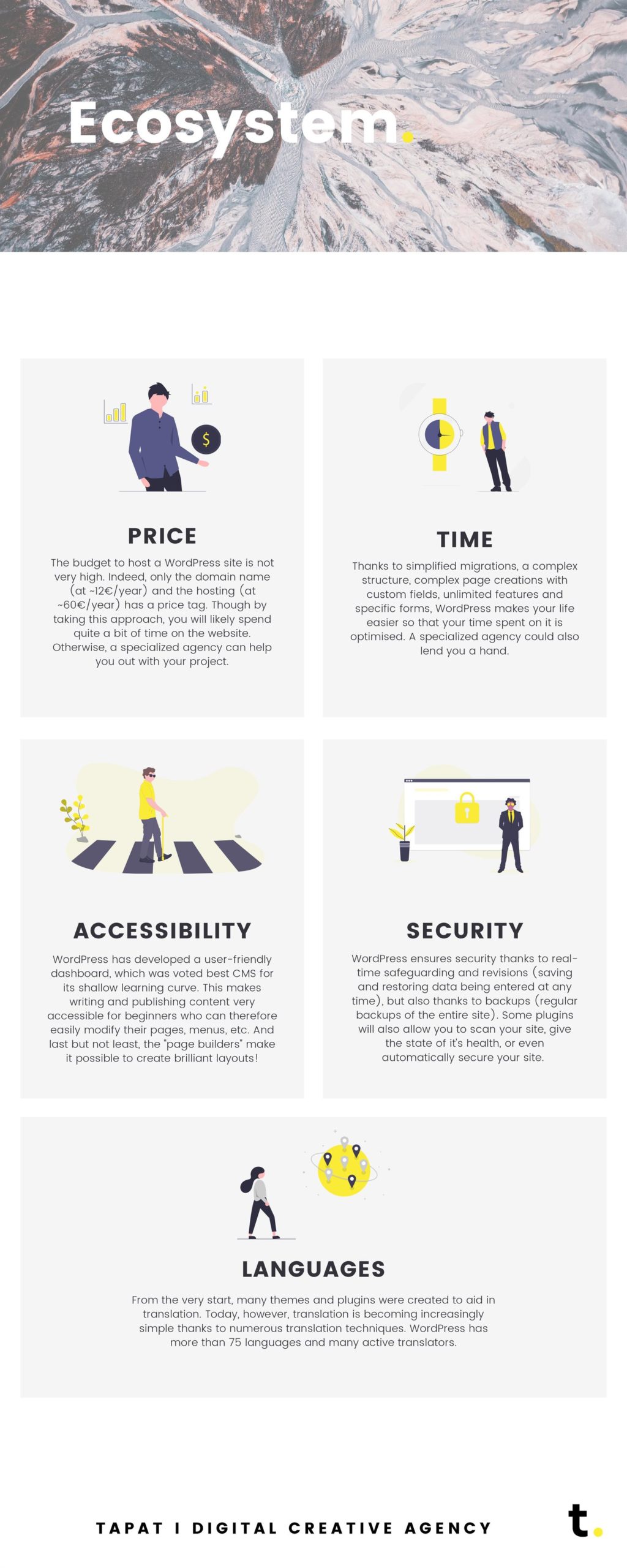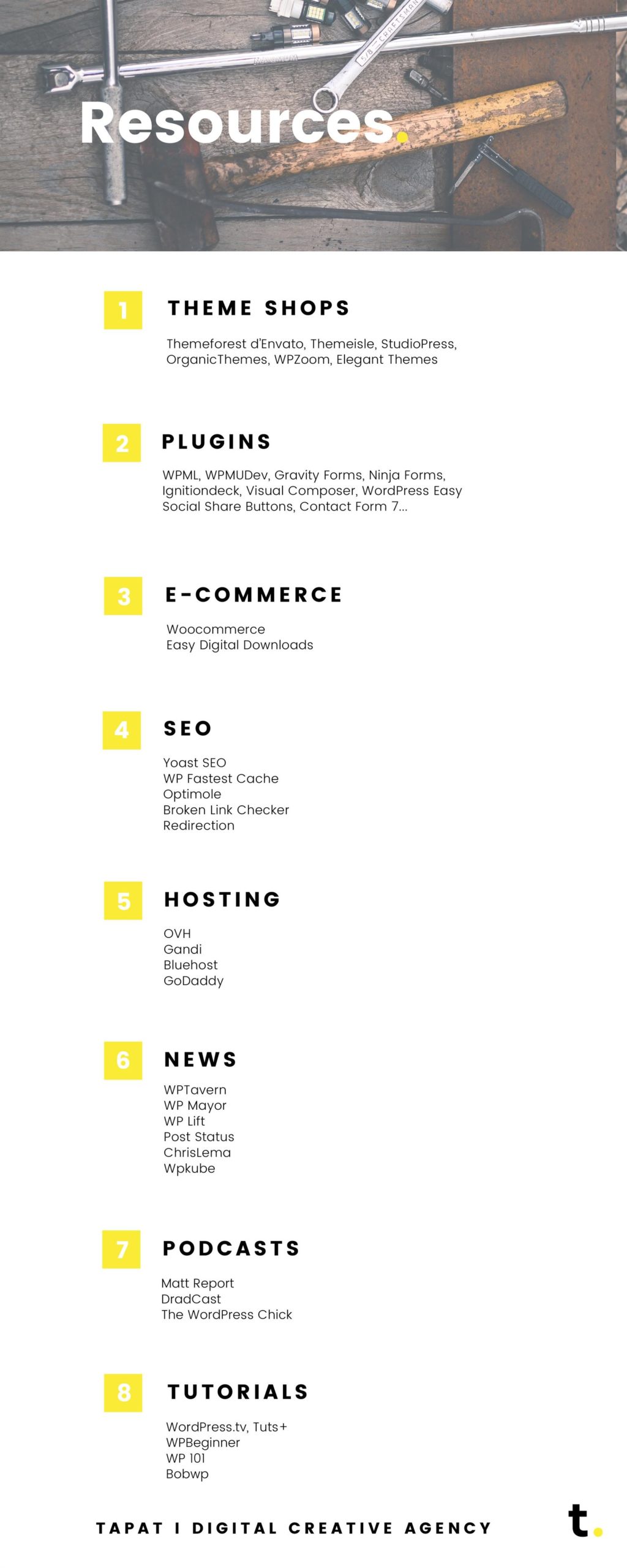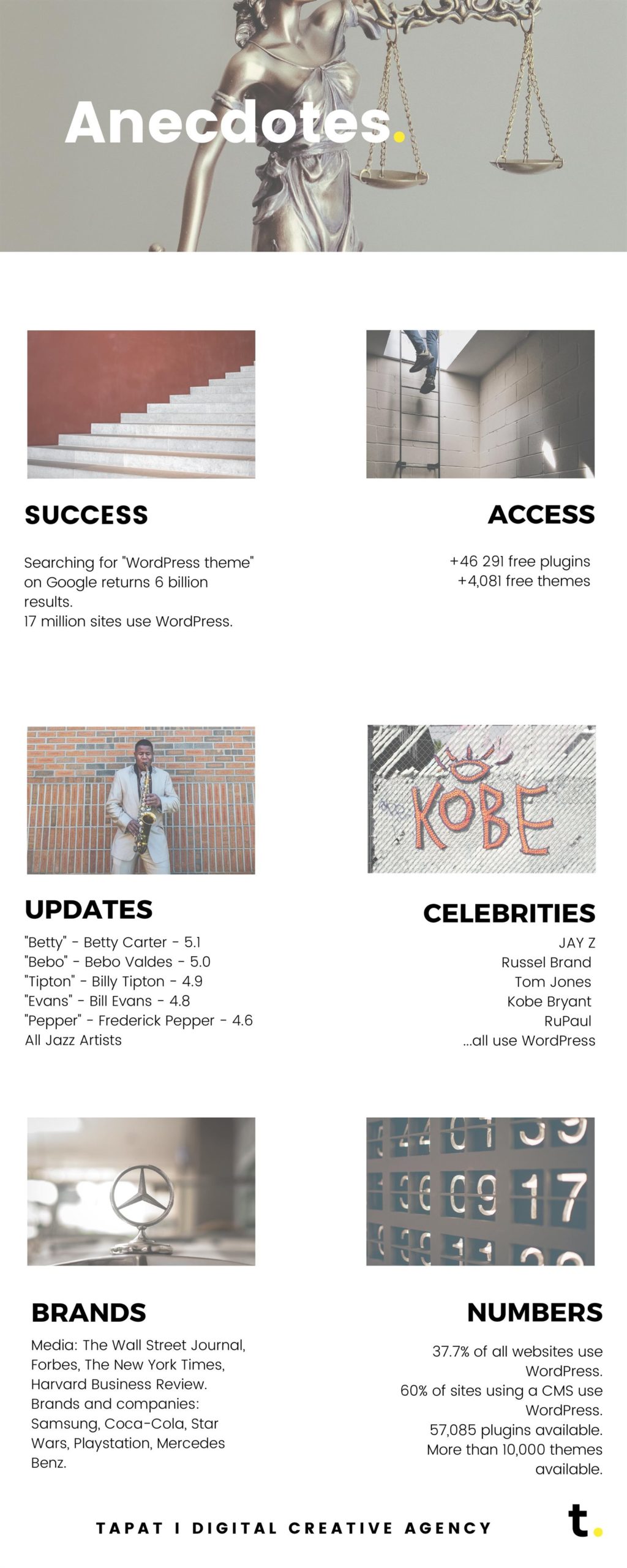 For all those who prefer a standard form, here is a transcription of the infographics above. 
Happy reading and don't hesitate to  let us know what you think of it! 
INTRODUCTION 
Are you already familiar with WordPress – the open source content management system? If so, then thanks to this article you will surely know a little more. If not, then this article will introduce you to a lot of new things.
WordPress is currently the most widely used content management system (CMS) on the planet. Since its creation, its versions have been increasingly polished and allow users to publish and manage content with ease. 
It was created by Matt Mullenweg to designers, bloggers, marketing experts, hosting services, theme shops and plugin creators but also by all other people interested in the web. 
Appeared for the first time in the USA, this platform is available for users all around the world. Since its creation in 2003, WordPress continues to evolve over time, with each new version as promising as the last. 
To use it, all you need is to order a domain name and a server; install WordPress; choose and install, or develop a WordPress theme;  install the necessary plugins for your WordPress site; create the structure and pages of your site and integrate the content. 
Thanks to its accessibility, WordPress has 18 million users, 4,806,463,678 websites (37% of global market share) and 237 versions from 12 November 2009 (version 2.8.6.) to 5 October 2020 (version 5.5.1.).
The WordPress platform aims to make life easier for people using it to create, publish, and edit web content.
HISTORY
Origin 
In 2003, Matt Mullenweg created WordPress as a blogging system. The first version of WordPress (0.7.) was released on 27.05.2003 after hundreds of SVN submissions. Due to the extent of its success, Matt Mullenweg then released other versions, all symbols of hope and enthusiasm for a whole generation of website owners.
Evolution
WordPress is a successful and constantly evolving system with dedicated events taking place. Indeed, in August 2006 the first WordCamp took place in San Francisco. These annual events, organised by volunteers allow users and developers to exchange views on this software. Today, there are 784 WordCamps in 69 different cities in 65 countries.
Nowadays
Today, WordPress continues to gain market share (37% of global market share and 63% of content management systems). This is achieved by releasing an ever increasing amount of updates to continuously adapt and meet the needs of users. WordPress is no longer just a simple blog management system, but a tool for creating all types of websites (showcase, community, e-commerce, etc.).
Future
Even if 37% represents a significant market share for any company, there is still plenty of room for growth. Not to mention that Matt Mullenweg wants to cover 71% of the web and says that this is just the beginning. Therefore, the company must continue its efforts to offer better solutions, especially in terms of mobile devices, which are growing exponentially.
ECOSYSTEM 
Price 
The budget to host a WordPress site is not very high. Indeed, only the domain name (at ~12€/year) and the hosting (at ~60€/year) has a price tag. Though by taking this approach, you will likely spend quite a bit of time on the website. Otherwise, a specialized agency can help you out with your project.
Time
Thanks to simplified migrations, a complex structure, complex page creations with custom fields, unlimited features and specific forms, WordPress makes your life easier so that your time spent on it is optimised. A specialized agency could also lend you a hand.
Accessibility
WordPress has developed a user-friendly dashboard, which was voted best CMS for its shallow learning curve. This makes writing and publishing content very accessible for beginners who can therefore easily modify their pages, menus, etc. And last but not least, the "page builders" make it possible to create brilliant layouts!
Security
WordPress ensures security thanks to real- time safeguarding and revisions (saving and restoring data being entered at any time), but also thanks to backups (regular backups of the entire site). Some plugins will also allow you to scan your site, give the state of it's health, or even automatically secure your site.
Languages
From the very start, many themes and plugins were created to aid in translation. Today, however, translation is becoming increasingly simple thanks to numerous translation techniques. WordPress has more than 75 languages and many active translators.
RESOURCES 
WordPress contains thousands of tools, each as different as the next. If you need special themes, there are shops such as Envato's Themeforest, Themeisle, StudioPress, OrganicThemes, WPZoom, Elegant Themes and many more. If you are looking for extensions, there are e.g. WPML, WPMUDev, Gravity Forms, Ninja Forms, Ignitiondeck, Visual Composer, WordPress Easy Social Share Buttons or Contact Form 7. To buy things on WordPress, you have direct access to e-commerce such as Woocommerce and Easy Digital Downloads. If you're looking for SEO, you have access to Yoast SEO, WP Fastest Cache, Optimole, Broken Link Checker and Redirection for example. If you want to host, don't hesitate to use OVH, Gandi, Bluehost or GoDaddy. Moreover, if you want to follow WordPress news, there are WPTavern, WP Mayor, WP Lift, Post Status, ChrisLema or Wpkube. As well as podcasts such as Matt Report, DradCast and The WordPress Chick. And if you just want to learn, WordPress.tv, Tuts+, WPBeginner, WP 101 and Bobwp are at your disposal. 
ANECDOTES 
The success of WordPress is very real.  Indeed, the search for "WordPress theme" on Google returns 6 billion results and 17 million websites are made on this software. The latter gives access to more than 46,291 plugins and 4,081 free themes. All the updates have famous Jazz artist names such as "Betty" which refers to Betty Carter (version 5.1), "Bebo" which refers to Bebo Valdes (version 5.0), "Tipton" which refers to Billy Tipton (version 4.9), "Evans" which refers to Bill Evans (version 4.8), "Pepper" which refers to Frederick Pepper (version 4.6) and so on. Speaking of celebrities, Jay-Z, Russel Brand, Tom Jones, Kobe Bryant or RuPaul are WordPress fans as are many other brands. Indeed, media such as The Wall Street Journal, Forbes, The New York Times, Harvard Business Review are developed on WordPress and companies such as Samsung, Coca-Cola, Star Wars, Playstation, Mercedes Benz too. 
In a few figures, 37.7 % of all websites use WordPress, 60 % of websites using a CMS use WordPress, 57,085 plugins are available and more than 10,000 themes are offered.
CONCLUSION
In conclusion, WordPress is a good and very renowned content management system. Thanks to its security, accessibility, tools and simplicity, many people have chosen to use it for the development of their web solutions. Moreover, since Matt Mullenweg wants to cover 71% of the web, we can assume that we are not at the end of our surprises.