As we all know, this COVID-19 period has been a very complicated time to overcome, and even more so for the shops and restaurants that had to close their doors for several months (even up to a year!). 
Therefore, in order to pay tribute to them, we are going to present some of the best reopening advertisements of Toulouse's restaurateurs, a moment we've all been looking forward to.  
SUMMARY : 
L'Alimentation – word game 

Guinguette – video 

Fils à maman – game contest

J'Go – quote 

Chez tonton – humor 
L'Alimentation – word game 
L'Alimentation has given us a very nice communication campaign for the reopening of restaurants in the pink city. 
In a few lines, L'Alimentation is a chain of three restaurants in Toulouse, all with their own specialties: the restaurant in all its splendor at Jean Jaurès, the wine bar at Place de la Bourse with its grocery store & restaurant in Labège. 
This brand has always worked on its omnichannel marketing through its various means of communication. Thus, we can get a glimpse of their instagram feed while strolling on their website. It's quite representative of the brand: https://www.lalimentation.fr. 
Known for its sense of humor and its succulent dishes, this chain has not lost its editorial line for the reopening and welcomes us with a pun: 

We've also been looking forward to "meat" you < 3 !
Guinguette – video 
It's La Guinguette's turn to surprise us with its reopening video, which couldn't be more elaborate. 
The Guinguette, as its name suggests, is a style of restaurant that takes place outdoors, with a countryside ambiance and decor. In this case, the restaurant could not have chosen a better spot. It's located at "quaie de tounis", right on the Garonne river. 
Present on Instagram since its opening, it continuously gives us mouthwatering creative content with a strong visual identity. 
Seasonal in nature, this famous Guinguette had the honor of opening its doors this summer by welcoming us with a beautifully crafted video: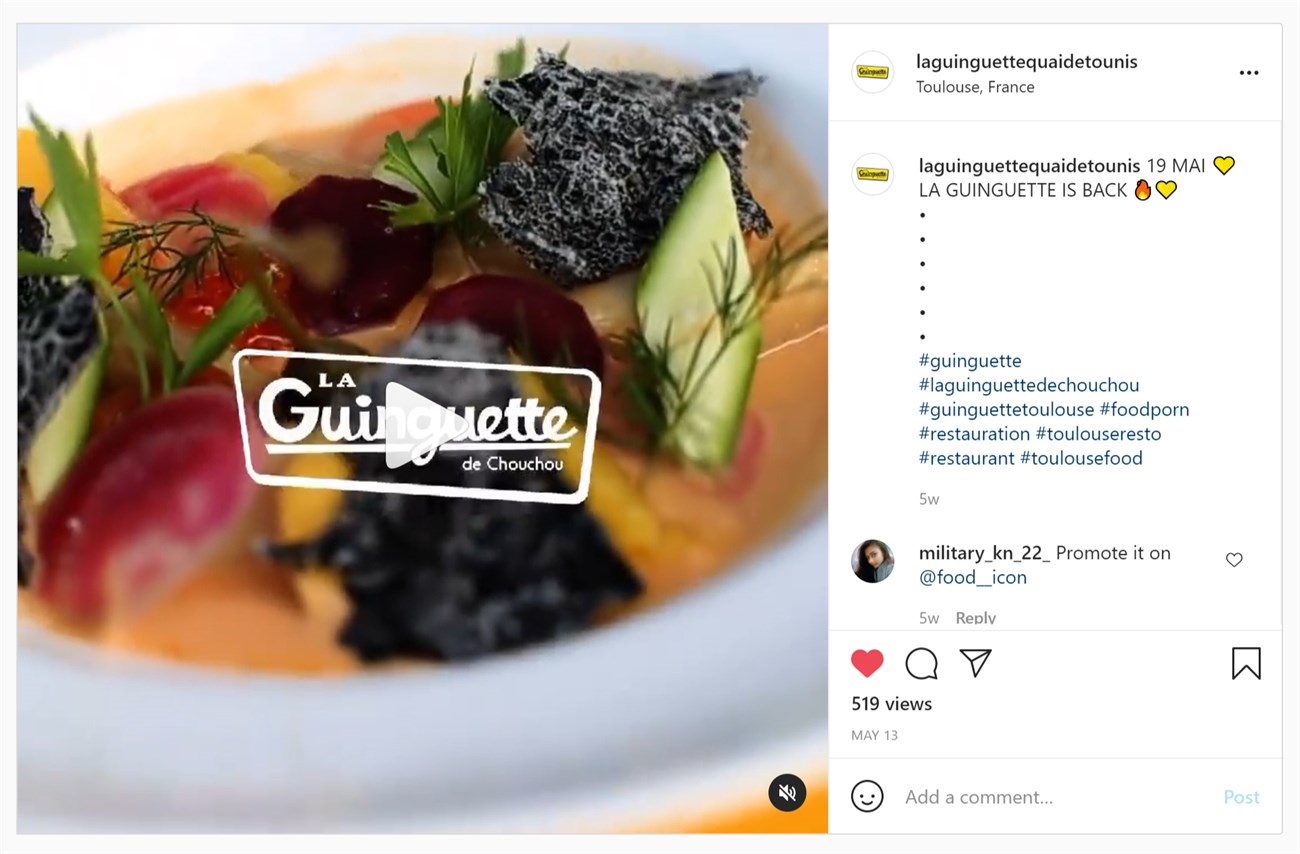 So, have you gotten your feet wet in the river with some tapas in hand? 
Fils à maman – contest 
Do you know Les Fils à Maman? Located in the Carmes and Victor Hugo districts of Toulouse, these restaurants are very successful thanks to their tasty dishes. 
Always singular and authentic, this restaurant chain expresses its values through its website: https://www.lesfilsamaman.com/. Indeed, through their hand-made graphics, their website plunges us directly into the childish universe of the restaurant, which continues to surprise us. 
This year, they are back in full force by offering up a BRUNCH REOPENING CONTEST. This communication technique did not fail: about 600 participations on the @lesfilsamaman_tlse account!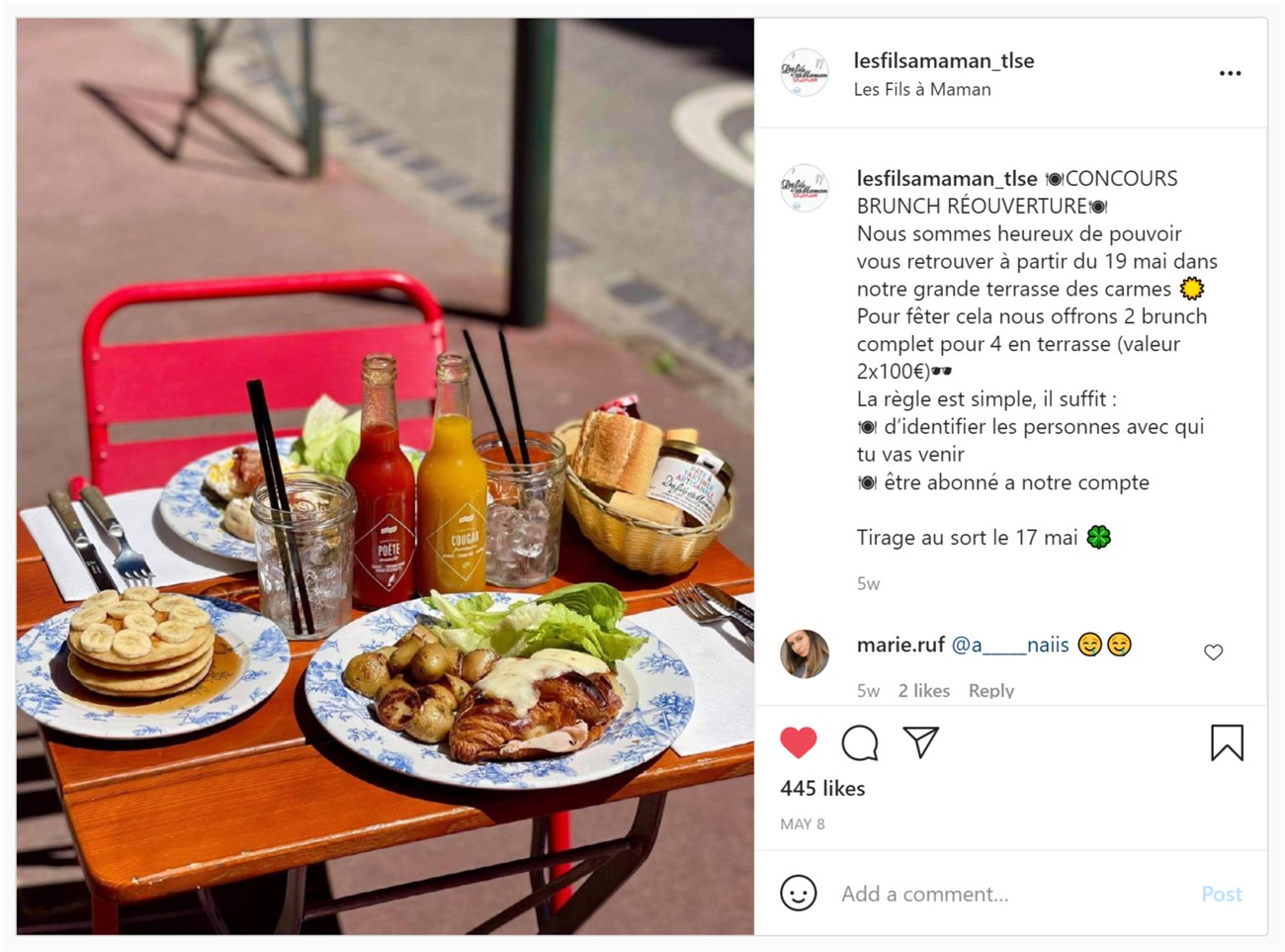 PS: If you won, please leave us a little bite to eat!
J'Go – quote 
As usual, the restaurant J'Go did not lack inspiration when communicate to the general public about its reopening. 
Created in 1995, this restaurant initially dedicated to the leg of lamb, pastifret and duck fries has become a meeting place for all people wishing to eat well and in a festive atmosphere. 
Thus, their style communication has always been authentic and poetic ;), It goes without saying when we see this quotation of the creator of the J' Go: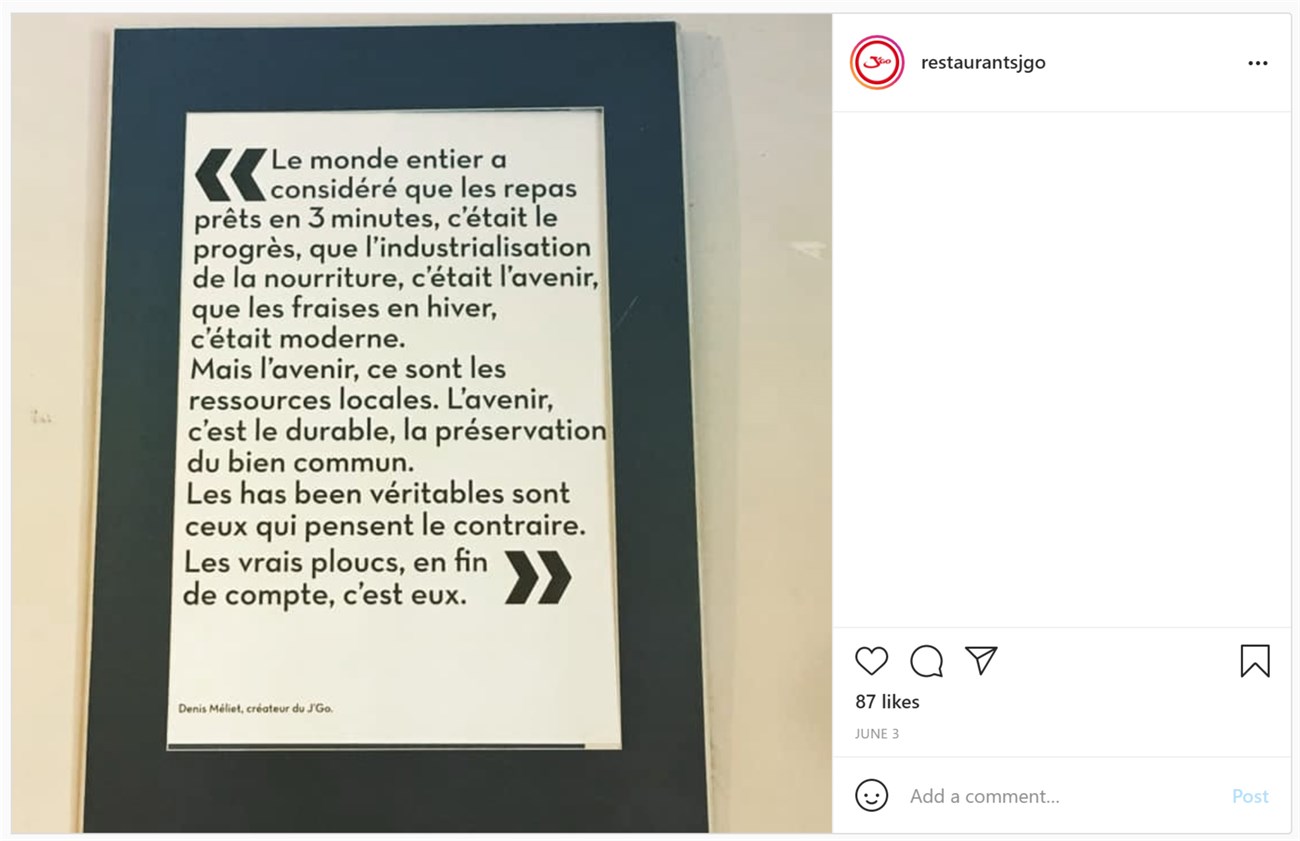 Translation: "The whole world considered that meals ready in 3 minutes were progress, that the industrialization of food was the future, that strawberries in winter were modern. But the future is local resources. The future is sustainable, the preservation of the common good. The real has-beens are those who think the opposite. The real hicks, in the end, are them." 
So: do you prefer to eat strawberries in winter or to eat local? 
Chez tonton – humor 
To finish in beauty on the communication of the Toulouse restaurant owners, how not to quote Chez Tonton, the flagship bar of the pink city known and recognized for its meters of pastis. 
For nearly 40 years, this Toulouse bar has been hosting parties for young and old from Monday to Monday. Thanks to a very striking visual identity and a remarkable graphic charter, they are followed by nearly 25,000 followers on Instagram. 
This year again, the bar did not lack humor to conquer the hearts of the youth, announcing the reopening of the bars in a rather singular way.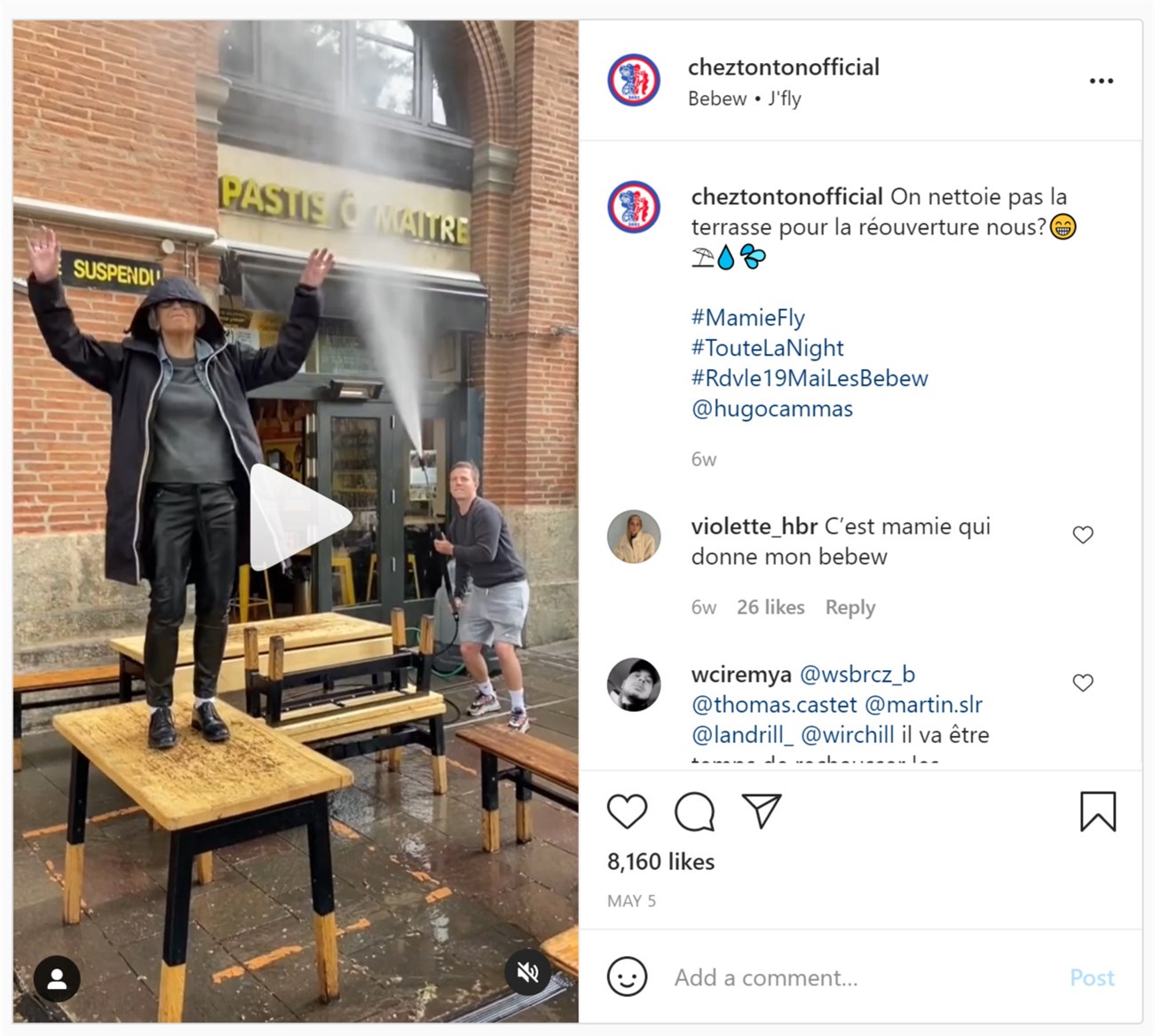 A promise made, a promise kept, the Bebews were there for the reopening of Chez Tonton, and of course, in a great mood. 
CONCLUSION 
To conclude, the restaurant owners of Toulouse did not lack inspiration for the long awaited reopening of their properties. We have only mentioned a few of them, but we support all the restaurant owners in France and abroad, who have been feeding us for years.